Share on your favorite social networking site by clicking its icon.
Click
here
for a link to this newsletter to send to friends.
ARCC invites our Newsletter friends who are not already members to consider joining and supporting ARCC.
Once people start to believe change is possible, the drive to achieve it accelerates.
_ Patrick Edgar, ARCC President
A Twelve-Step Jubilee Challenge
John A. Dick, Ph.D., S.T.D. September, 2015
Pope Francis, drawing on an old RCC tradition, is proclaiming a Jubilee Year of Mercy. It will begin officially on December 8, 2015 and conclude on November 20, 2016. "I am convinced," Francis said, that the whole church...will find in this jubilee the joy to rediscover and render fruitful the mercy of God, with which we are all called to give consolation to every man and woman of our time."
The year-long jubilee, according to Vatican officials, will include a number of individual "jubilee days," for groups such as religious men and women, deacons, priests, catechists, the sick and disabled, teenagers, and prisoners. (Nothing has been said about "jubilee days" for gays, divorced and remarried, nor for those excommunicated because they support women's ordination.) Young people, however, will be able to celebrate their own special jubilee days with Pope Francis at World Youth Day in Krakow, Poland, at the end of July 2016.
The last big Jubilee Year was 2000, but as Robert Mickens observed in the National Catholic Reporter (March 16, 2015) it was not all that great. "If John Paul II's intuition was to usher in an era of mercy and forgiveness," Mickens observed, "he lacked the physical and mental energy as well as the necessary support of his closest aides to do so with any real creativity or boldness."
Maybe Francis will do better this time around? I hope so and have some positive suggestions.
The notion of a Christian jubilee year goes back to the Book of Leviticus (see Leviticus 25:8-13). It called for a jubilee year every fifty years, in which slaves and prisoners would be freed, debts would be forgiven, and God's mercies would be especially demonstrated.
The first Christian jubilee year was proclaimed in 1300 by Pope Boniface VIII, for pilgrims visiting Rome and offering the full pardon of all their sins, if they visited the basilicas of St. Peter and St. Paul and fulfilled other requirements. The granting of special indulgences was always a key feature of earlier jubilees. (It is hard to say today just what exactly an indulgence means. I will bypass that topic this week.)
Clearly what Pope Francis has in mind for the upcoming Jubilee Year of Mercy is that the institutional church and individual Christians extend forgiveness, compassion, and a welcoming back to the church of those who for various reasons have been excluded or have felt abandoned.
I have twelve suggestions (just like there are twelve gifts of the Holy Spirit) for the Jubilee of Mercy. In every diocese, starting with the Bishop of Rome (i.e. Pope Francis) I suggest that bishops go out of their way to accomplish the following:
For those excommunicated for their active support for women's ordination, the bishop will lift the excommunication and welcome back to the church those women and men who had been thrown out.

For those excommunicated for their active support for same-sex marriage, the bishop will lift the excommunication and welcome back to the church those women and men who had been thrown out.

For those children not allowed to attend parochial schools because their parents are a gay couple, the bishop will order that no parochial school in his diocese will continue to exclude these children. He will apologize for earlier exclusions or expulsions.

For those who have been fired from their teaching positions or from parish ministries because they entered into a same-sex marriage, the bishop will announce a major change in diocesan policy and welcome back those women or men who had been fired.

For those divorced and remarried but not accepted as full members of the church, the bishop will welcome them back to the church, and he will authorize that their second marriages be accepted and blessed.

Recognizing the importance of being generous and merciful toward the tens of thousands of nonfunctioning married priests, bishops in the Jubilee of Mercy will allow and welcome back to full ordained ministry those men who wish to do so.

Recognizing the importance of qualified ordained ministers, bishops in the Jubilee of Mercy will begin to ordain already ministerially qualified married men.

Recognizing the importance of opening ordained ministry to women, bishops in the Jubilee of Mercy will begin to ordain women to the diaconate.

Recognizing that bishops must break out of the trappings of power, authority, money, and privilege, bishops in the Jubilee of Mercy will establish a "Jubilee Committee" of lay and ordained advisors to determine how bishops can best do this.

The Jubilee Committees in every diocese will supervise the removal and selling of outrageously expensive episcopal croziers, miters, crosses, rings and other episcopal ornaments. Money will be used to support refugees.

As a symbol of the needed change, and respecting Pope's Francis' frequent admonitions that bishops adopt a simpler life-style, all bishops will immediately cease wearing ornate Renaissance robes; and they will cease using all medieval episcopal titles of power and privilege.

Titles of "eminence" or "excellency" will no longer be permitted or used. Bishops will be called "bishop" or "archbishop" or "cardinal." The preferred title will be either "father" or "reverend." For example, people will begin to speak about "Father Timothy Dolan the Archbishop of New York."
In 2007 about 24% of Americans identified themselves as Roman Catholic. Today that figure is 20% and some studies say it is even lower than that. Of those roughly 20%, just 17% are practicing Catholics. One of the largest religious groups in U.S. society is now the group of former Catholics. And that number is growing: Four-in-ten (41%) of U.S. Roman Catholic adults under age 30 say they could easily see themselves leaving the church.
A Jubilee of Marcy, as I outline it above, might change the statistics. Whether it does or does not, the patterns of Roman Catholic life in the United States need a major overhaul because it is the just, appropriate, and authentically Christian thing to do.
Jubilee Committees now have two months to get their plans in motion. Then... let the Jubilee of Mercy begin!
Jack Dick is ARCC Vice President
Some things we have been reading
Catholic activists raise ordination issue as pope's U.S. trip approaches
Thomas C. Fox Sep.11, 2015
Some 500 Catholic activists from around the globe will converge on Philadelphia for a three-day conference Sept. 18-20 to press for women's rights in the church. They will meet one week before Pope Francis is set to step foot into the city.
The U.S.-based Women's Ordination Conference (WOC) is hosting the Women's Ordination Worldwide meeting. The Women's Ordination Conference formed 40 years back, in 1975, after a group of women's ordination advocates met in Detroit. Women's Ordination Worldwide (WOW), an assembly of international groups supporting women's ordination, formed in 1996; the U.S. group is a member.
The three-day gathering will assess the place of women in church and society and develop plans to advance their Gospel-based justice agendas. Delegates will also assess advances and setbacks within the movement since the 1970s.
Among the speakers at next week's gathering will be veteran Catholic feminists Elisabeth Schüssler Fiorenza and Mary Hunt, Mercy Sr. Theresa Kane and Loretto Sr. Maureen Fiedler. Delegates will also hear from:
Theologian and archeological researcher Dorothy Irvin;
British theologian Tina Beattie;
Australian historian Paul Collins;
Patricia Fresen, expelled from her order following her illicit ordination in 2004;
Kristina Keneally, a liberation theologian who writes on women's issues;
Ursula King, who writes on women's spirituality.
Women's Ordination Conference co-executive director Kate McElwee told NCR she hopes the meeting will help "mainstream the conversation" of women's ordination by claiming it as a justice issue. The conference theme is "Gender, Gospel, and Global Justice."
The issue of Catholic women's ordination has not gone away, despite efforts by the Catholic hierarchy to bury it for good. The Women's Ordination Conference is one of the reasons the issue has stayed before the U.S. public.
Official Catholic teaching forbids women from being ordained priests. Citing centuries of tradition, it holds this is God's will. Church canons call for stiff sanctions against those who participate in the attempted ordination of a woman.
Catholic feminists say they find no theological substance in teachings that exclude women from the priesthood. The reform-minded Pope Francis, who has pushed for change on many fronts, has dismissed the ordination possibility. "The church has spoken; that door is closed," he has said.
As the world, especially the West, has moved toward gender equality, a male-only Catholic priesthood is increasingly unacceptable to Catholic feminists, many of whom express ambivalent feelings toward their church -- and church reform. They wonder aloud how much energy should they put into reforming their recalcitrant institution when other pressing peace, justice and environmental needs require attention.
However, Catholic feminists -- including some who have largely forsaken institutional reform -- continue to applaud the work of younger women who have taken on the ordination issue.
WATCH: Stephen Colbert, Lifelong Catholic, on Hearing a Female Priest Celebrate the Eucharist
Much like Pope Francis, the great love Stephen Colbert has for the Catholic Church does not preclude a thoughtful, creative examination of Catholic tradition.
In his latest interview with , Colbert shared a powerful story about the important influence of female priests.
Calling it "one of the times when I felt the Eucharist was most real to me," Colbert described the personal and theological significance of an Anglican female priest presiding over the Eucharist:
"When I heard a woman say 'This is my body,' the freshness of hearing a woman say that gave the message a universality that it always should have - and I'm not saying it doesn't coming out of a male priest - but it opened my ears to the possibility that it is also my body. That in my participation in the Eucharist, I participate in the gift that Christ gives me ..."
After elaborating on the experience, Colbert slowly turned to the camera to address the audience, and offered a bit of self-commentary.
In a characteristic tone of his - dripping with both seriousness and snark - he said, "And now I invite everyone to attack me for suggesting that women should be priests."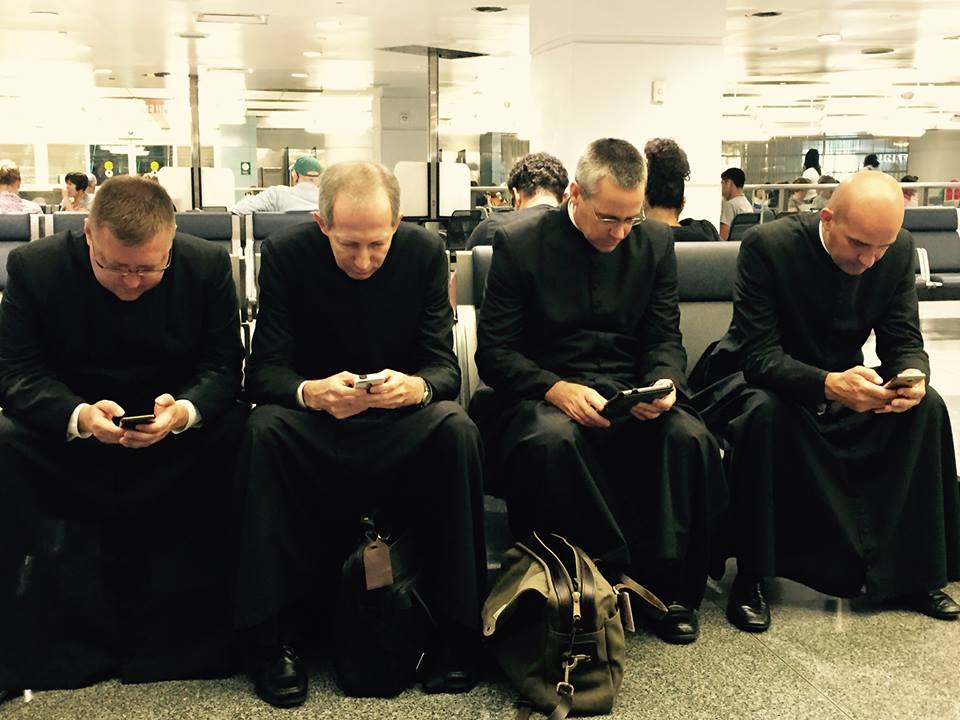 Master of Ceremonies, was spotted in New York's Penn Station as he prepares for Pope's visit to the USA
For those of us unable to be involved personally in the papal visit, the webpage from America Media allows us to participate virtually.
Time Warner Cable is rolling out the Papal Visit 2015 channel, a sort of C-Span for fans of the pope, telecasting around the clock on Channel 199 in most areas from the opening event of Francis' tour, a Mass in Havana on Sept. 20, until Shepherd One lifts off from Philadelphia International Airport on Sept. 27.
Pope Pope Francis souvenirs: cheesy, snuggly, silly and serious
Cathy Lynn Grossman Sep.15, 2015
Creative and commercial attempts to cash in on Pope Francis' upcoming U.S. visit this month know (almost) no limits.
Whether you brave the crowds to see Pope Francis in Washington, New York or Philadelphia - or just tune in to media coverage from home - entrepreneurs are banking you'll crave a papal-visit-prompted souvenir to crow about.
Philadelphia, Francis' last stop (Sept. 26 and 27) on the U.S. tour - and the setting of his biggest public event, a Mass on the city streets - has become the epicenter of mass marketing.
DRINK TO THAT: At certain city taverns, you can toast the pope's health with a draft of #Yopo (#You Only Pope Once) pale ale. Sorry, no bottles, says the Cape May, N.J., brewery that created the hoppy suds. Three of the 15 Philly bars and restaurants carrying the brew . . . .
CHEESY TRIBUTES: Munch on mozzarella carved in Pope Francis' likeness. . ordered a mold of Francis' likeness to produce 6-inch-tall cheese popes weighing about a pound each. . . . . Go for a totally pope grilled cheese, with a Francis image toasted right onto your slice of Wonder Bread, with a $48.95 Pope Toaster.

STAND-UP GUY: The budget-minded can pose for endless selfies with the cardboard Pope Francis stand-ups propped all over downtown Philadelphia. Not going to Philly? The Internet levels the pope collectible shopping field. You can order your own cardboard Francis for a papal visit "watch party" at home ($69.95 on Ebay).

GO SOLAR:

Or get a solar-powered pontiff statue for $18.95 on Amazon. He waves with the light.

HE'S A DOLL:

Sleep with Francis (figuratively speaking, of course). For less than $20 online, you can get a

snuggly Pope Francis doll

from the same Bleacher Creatures folks who bring you endless bobblehead sports figures.

PAPAL CROSS:

Notice in photos of the pope that he's wearing an unusual cross on his chest. . . . .

Now, replicas are on sale for a range of prices (about $2 to almost $1,000 for a sterling silver version) at multiple Catholic gift stores and websites.

POPE T-SHIRTS:

Wear your cross with a $10

with "Smell like your sheep" emblazoned on it - or try one of the 39 other slogans available, such as "Share with the poor."

. . . .

PIZZA FOR PAPA: . . . .

Be on the lookout for

pizza boxes emblazoned with a drawing

of the pontiff, sketched out on boxes from restaurant supplier Savona-Stavola Foods.

POP-UP SHOPS:

Even the church's official World Meeting of Families - the event that put Philadelphia on the pope's itinerary - has a retail arm cashing in on the hoopla. It has

selling everything from $5 prayer cards for the humble to a $200 crystal and gold rosary.
Francis appoints new bishop for scandal-rocked US diocese of Kansas City
Joshua J. McElwee Sep.15, 2015

Pope Francis has appointed a new bishop for the diocese in the U.S. heartland that became an international symbol of church failings in the sexual abuse crisis, less than five months after the unusual resignation of its former leader.
Bishop James Johnston, until now the bishop of the Springfield-Cape Girardeau diocese in southern Missouri, has been appointed to replace resigned Bishop Robert Finn in the Kansas City-St. Joseph diocese in the same state.
The move, made relatively quickly for the Vatican following Finn's April 21 resignation, brings Johnston some 160 miles north to try and rebuild a diocese that was rocked for more than three years by a scandal that eventually saw Finn found guilty of a criminal misdemeanor for mishandling an abusive priest.
The appointment also comes exactly one week before Francis lands for his first visit to the United States, a possible signal that the pontiff was looking to bring to a close an incredibly difficult period for the diocese before his visit to the country.
Johnston, 55, who had been the bishop of Springfield-Cape Girardeau since 2008, is a native of Knoxville, Tenn., and did his seminary studies first at Saint Meinrad Seminary in Indiana before earning a licentiate in canon law at The Catholic University of America. He chose to become a priest after a brief career as an electric engineer.
Cardinal Coccopalmerio on the Reform of the Process for Declaring Nullity of a Marriage
Gerard O'Connell Sep.8, 2015
Pope Francis has today decreed a major reform of the Catholic Church's process for the declaration of nullity of marriages, which includes some substantial changes, involving both a streamlining and speeding up of the process as well as a reduction to the minimum of the costs involved for the parties seeking this decree of nullity.
He has done so by issuing two letters 'on his own initiative' (motu proprio) that introduce significant changes in both the Latin and Oriental Codes of Canon Law.
The new reform was presented at a press conference in the Vatican on September 8, and one of the main speakers at that event was the Italian cardinal Cardinal Francesco Coccopalmerio. He is president of the Pontifical Council for Legislative Texts, one of the Vatican's top canon lawyers, and was appointed by the pope to the commission that he set up, August 2014, to study the annulment process and to come up with proposals for revision and improvement in this important area. He was the only cardinal on the commission.
The following is a rough translation by
America
's Rome correspondent of what he said.
The most significant changes introduced by the new norm.
1. THE COMPOSITION OF THE TRIBUNALS
Canon 1671 speaking of this.
§ 1. Presupposes the doctrine according to which the diocesan bishop is the judge in his particular Church and it therefore affirms that the tribunal can be constituted by the bishop alone.
§ 2. (Says) the diocesan bishop, however, is not the only judge in his particular Church:
- in fact, it says, the diocesan bishop can establish a tribunal that judges in his stead:
- However, it gives the bishop the faculty to accede to a nearby tribunal.
§§ 3-4. They deal with two problems that we can say are an issue:
- that of the collegial or one-only judge;
- that of the judge who is a cleric or a lay person:
And they resolve them with the following directives (dispositions):
- if it's possible, the tribunal should be collegial and formed of three members who are clerics:
- if it's not possible that all the members are clerics, it's permitted that one only need be a cleric and be the president of the tribunal, while the others can be lay people;
- if, moreover, it's not possible that the tribunal can be collegial, it's permitted that it be formed of one judge only, but he should be a cleric;
- that one only judge who is a cleric should avail himself, if possible, of two assistants (assessors) of upright life, who are expert in the legal and human sciences, and approved by the bishop for this purpose.
§ 5. The tribunal of the second instance should be collegial always, and should be formed according to the criteria given in § 3.
2. THE ABOLITION OF THE DOUBLE CONFORMING (SENTENCES)
Canons 1679-1680 speak of this and touch the actual structure of the double confirming sentences and decree their abolition. . . . .
The new norm disposes that: "The sentence that for the first time decreed the nullity of marriage, after the times (terms) established have passed...becomes executive" (can. 1679).
It is therefore no longer obligatory to appeal ex ufficio to the second grade. Nevertheless, the possibility to appeal the sentence is not denied, . . . .
however, and here is the great novelty: "The collegial tribunal, if it concludes that the appeal is clearly only (a) prolonging (tactic), can confirm the decree of the first instance" (can. 1680, § 2).
3. THE SHORTER PROCESS ('Processus Brevior')
Another significant innovation, always with a view to speeding up the processes of nullity of marriage, is that contained in canons 1683-1684, and consists in the 'shorter process' ("processus brevior").
Let's look schematically at the elements that structure this process:
- the diocesan bishop is the sole judge.
- the cause of nullity is introduced by both parties, who must however be convinced of the nullity of marriage;
- the testimonials or documentary proofs must be evident and make clear the nullity (canons. 1683-1684);
- the term (time) within which the 'shorter process' must be done is 30 days from the moment all the participants are convoked, and another 15 days can be added for further observations (canons 1685-1686);
- the sentence is issued by the diocesan bishop himself if he reaches the moral certainty of the nullity of the marriage, or else the case examined by him is assigned to the ordinary process (can. 1687, § 1);
- an appeal against the sentence is also envisaged here but, here too, it cannot be an appeal that is merely a delaying one, because in this case also it is rejected at the start.
Will Pope Francis' annulment reforms impact U.S. Catholics?
The streamlined marriage annulment procedures unveiled by the Vatican are aimed at simplifying what is often a tedious gauntlet of red tape. But it's not clear how much effect the reforms ordered by Pope Francis will have in the U.S., where about half of all annulments are granted even though American Catholics are just 6 percent of the global church.
That's largely because in recent decades American dioceses have taken a number of steps to make the process less cumbersome and time-consuming, some of which were reflected in the new procedures announced Tuesday (Sept. 8) in Rome.
The new rules, the most sweeping reform in centuries, eliminate an automatic review of any "decree of nullity" by a second panel of church judges, and they provide for what is being called a fast-track option that allows for an annulment to be granted by the local bishop within 45 days if both spouses request an annulment or don't oppose it.
Annulment rulings can currently take up to a year, or more, and cost upwards of $1,000, though in the U.S. fees can be waived.
It's an issue that potentially affects millions of people: in the U.S., 25 percent of Catholics have been divorced; 26 percent of them say they sought annulment, according to Pew Research.
. . . .
"It is a democratizing move focused on easing the course of reintegration into the church for women, in particular," said Candida Moss, a professor of New Testament and early Christianity at the University of Notre Dame. "His actions are propelled by compassion and pragmatism: He recognizes the dangers of spousal abuse and the reality that many modern marriages are undertaken without full consideration."
Moss also noted that the timing of the moves is important because they come ahead of Francis' Sept. 22-27 visit to the U.S., his first. "Francis has set the agenda for these conversations and smoothed the path for his visit later this month," Moss said. "The messaging is clear: Francis doesn't want to change church teaching but he doesn't want to focus on punishing people either."
. . . .
Annulments in the U.S. Just over 23,000 cases were begun in 2014, down from nearly 61,000 in 1985. Church officials note that fewer Catholics are getting married in the church, more are living together without getting married, and many who divorce see no reason for an annulment.
Here is a list of U.S. dioceses, compiled by RNS and using information from the U.S. Conference of Catholic Bishops, that waive annulment fees. The list will be updated as information is received:
The Diocese of Rochester ()
The Diocese of Cleveland ()
The Diocese of Fort Wayne-South Bend ()
The Diocese of Marquette ()
The Diocese of St. Petersburg ()
The Diocese of Pittsburgh ()
The Diocese of Rapid City ()
The Archdiocese of Indianapolis ()
The Archdiocese of Washington, D.C. ()
The Diocese of Rockville Centre ()
The Diocese of Youngstown ()
The Diocese of Jefferson City has waived annulment fees since 1970
The Archdiocese of Detroit
The Diocese of Lafayette in Indiana
The Diocese of Gaylord in Michigan
The Diocese of Raleigh
Hungarian bishop says pope is wrong about refugees
Pope Francis's
message
Sunday couldn't have been clearer: With hundreds of thousands of refugees flowing into Europe, Catholics across the continent had a moral duty to help by opening their churches, monasteries and homes as sanctuaries.
On Monday, the church's spiritual leader for southern Hungary - scene of some of the anywhere in Europe - had a message just as clear: His Holiness is wrong.
"They're not refugees. This is an invasion," said Bishop Laszlo Kiss-Rigo, whose dominion stretches across the southern reaches of this predominantly Catholic nation. "They come here with cries of 'Allahu Akbar.' They want to take over."
The bishop's stark language reflects a broader spiritual struggle in Europe over how to respond to a burgeoning flow of predominantly Muslim men, women and children onto a largely Christian continent.
The pope's call for compassion and charity is competing with a view most prominently articulated by Hungarian Prime Minister Viktor Orban, who has cast the flow of migrants as a direct challenge to Europe's Christian character.
. . . .
Even as Catholics in other parts of Europe heeded the pope's plea for help Monday, there was little evidence here that church leaders were prepared to elevate what has so far been an anemic response to one of the worst humanitarian crises Europe has seen in decades.
Hungarians waiting by the highway with food to give to the refugees who will arrive on foot
What is driving Pope Francis' canonization of Junípero Serra?
Jamie Manson Sep.16, 2015
When Pope Francis arrives in Washington, D.C., much of the media's attention will undoubtedly focus on his address to a joint session of Congress - particularly on which elected officials will be chastened by the pontiff's words.
Less attention will be paid to the controversy surrounding the pope's canonization of Junípero Serra, which will take place the previous evening at the Basilica of the National Shrine of the Immaculate Conception.
Serra, an 18th-century Spanish friar who founded the first missions in California, is credited by the Catholic church for proselytizing and baptizing the indigenous people.
But Serra's story is laced with disturbing details, many of which are well-presented by
NCR'
s Vinnie Rotondaro in his recent piece, "
How Tarnished is Serra's Halo?
"
. . . .
The indigenous people, who survived more than 10,000 years on the land we now call the United States, saw their population decimated by the punishments, European diseases, hard labor and malnutrition wrought by the missions.
As was widely reported in May, during his trip to Bolivia, Pope Francis offered an apology for the church's treatment of the indigenous.
. . . .
Like many of Serra's apologists, Francis insists that the Spanish friar was a defender of the Indians against settlers and soldiers. It's an argument that Serra biographer Steven Hackel says does not outweigh the harm ultimately done to native peoples.
"One can point to certain moments in the historical record when Serra does protect Indians, but the larger story I think is one in which his policies and his plans led to tremendous pain and suffering, most of it unintended on his part, among Native peoples," Hackel recently
told Al Jazeera America
.
"There's no question that his goal was to radically alter Native culture, to have Indians not speak their Native languages, to practice Spanish culture, to transform Native belief patterns in ways that would make them much less Native. He really did want to eliminate many aspects of Native culture," Hackel added.
. . . .
Why would Pope Francis, champion of the poor and suffering, demonstrate such a strong desire to canonize a man who, history strongly suggests, opened the floodgates to so much abuse and oppression?
at the North American College in Rome in May, Francis praised Serra as "part of a missionary corps who 'went out to all the geographical, social and existential peripheries' to spread the Gospel."
"Such zeal excites us," Francis added.
. . . .
Surely Pope Francis could have found a better model for evangelization that could speak to the contemporary longings and agonies of the Americas. Why not , whose love of the Gospel called her to defend the indigenous people of Brazil, and who was martyred while fighting the capitalist forces that continue to ravage the Amazon?
The canonization of Serra hearkens back to a pious, if not perilous, understanding of evangelization, and offers painful evidence that the institutional church still cannot manage to learn from its mistakes.
Worst of all, it will re-traumatize an already broken and forsaken people.
Unction Dysfunction - Let Nonpriests Anoint the Sick
Rita Ferrone Sep.14, 2015
When we look into the eyes of someone sick and suffering, it tests our Christianity. It tests what we're made of, because it's hard not to look away. The gaze of compassion, "suffering with" another, does not come easily to most of us. Yet that is precisely what followers of Jesus, the Man of Sorrows, are called to do. It is what "communion" requires-not looking away.
So what does it say when we look into those pain-filled eyes, and are unable to provide that person with something that will help? Catholics have a gift of immense spiritual value to offer those weighed down by illness: the Sacrament of Anointing the Sick. Yet according to Catholic discipline only one kind of person can offer that: a priest. And there aren't enough priests to go around.
Let me be clear: I'm all for priests performing their priestly role with respect to the Sacrament of the Sick. But the church is suffering from a priest shortage, and it's getting worse. Increasingly, caregivers, chaplains, lay ministers, and others have become the face of compassion for the sick-the face of Jesus-but they cannot offer the sacrament, which the church so beautifully calls a "sacrament of healing." Paradoxically, reserving this sacrament to priests and bishops does not make it more cherished but less so, as people learn to live without it.
. . . .
Sacraments are means of Christ's presence, a sanctifying presence that brings into the light the struggles of life, and showers on us the grace God freely gives. Sacraments strengthen us to bear the crosses we have been given. We already allow deacons and lay ministers to bring Communion to the sick, and the Eucharist is the premier sacrament, to which all other sacraments are ordered. Why be so stingy with oil for the sick?
Vatican releases Synod list: 279 participants, 8 Americans
Joshua J. McElwee Sep.15, 2015
The Vatican has officially released the full list of participants, auditors and collaborators for October's hotly anticipated global meeting of Catholic bishops on family life.
Among the details: Pope Francis has personally appointed four extra U.S. bishops to take part in the proceedings, giving the American delegation a total of eight prelates able to vote.
Those eight from the U.S. will be part of 279 bishops, prelates and priests announced as voting participants, coming from countries and regions all over the world.
The new U.S. prelates appointed by Francis: New York Cardinal Timothy Dolan, Washington Cardinal Donald Wuerl, Chicago Archbishop Blase Cupich, and Youngstown, Ohio Bishop George Murry.
The four Americans will join four others already elected by the U.S. bishops' conference: Louisville, Ky., Archbishop Joseph Kurtz, Philadelphia Archbishop Charles Chaput, Galveston-Houston Cardinal Daniel Di Nardo, and Los Angeles Archbishop Jose Gomez.
The Americans will join a globally diverse group of male prelates taking part in the discussions, who are a mix of those elected by the different bishops' conferences around the world to attend the event and personal appointees made by the pontiff himself.
Francis appointed 45 members to the Synod on his own authority, selecting a diverse group of prelates from Europe, Africa, and even the island nation of Tonga.
Twenty-five heads of various Vatican offices will also participate, as will ten representatives of the world's male religious orders.
There will also be a number of auditors taking part in the discussions, who are allowed to attend and participate in the discussions but not to vote on any final document or issues. Among those auditors are 17 individuals and 17 married couples. Thirteen of the individual auditors are women, including three religious sisters.
. . . .
Among the other prelates personally appointed by Francis to participate:
Cardinal Angelo Sodano, dean of the College of Cardinals;
Cardinal Godfried Danneels, archbishop emeritus of Mechelen-Brussels, Belgium;
Cardinal Christoph Schonborn, Archbishop of Vienna, Austria;
Cardinal Walter Kasper, president emeritus of the Pontifical Council for the Promotion of Christian Unity;
Cardinal Wilfrid Napier, Archbishop of Durban, South Africa;
Cardinal Oscar Rodriguez Maradiaga, Archbishop of Tegucigalpa, Honduras;
Cardinal Laurent Monsengwo Pasinya, Archbishop of Kinshasa, Democratic Republic of the Congo;
Cardinal Raymundo Damasceno Assis, Archbishop of Aparecida, Brazil;
Cardinal John Dew, Archbishop of Wellington, New Zealand;
Cardinal Soane Mafi, Bishop of Tonga;
Archbishop Victor Manuel Fernandez, Rector of the Pontifical University of Argentina;
Jesuit Fr. Francois-Xavier Dumortier, head of the Pontifical Gregorian University in Rome;
Jesuit Fr. Antonio Spadaro, editor of the Italian Catholic magazine La Civiltà Cattolica.
The Vatican has made the full list of synod participants, auditors and collaborators
available online
.
Conservative dissent is brewing inside the Vatican
Anthony Faiola Sep.7, 2015
On a sunny morning earlier this year, a camera crew entered a well-appointed apartment just outside the 9th-century gates of Vatican City. Pristinely dressed in the black robes and scarlet sash of the princes of the Roman Catholic Church, the Wisconsin-born Cardinal Raymond Burke sat in his elaborately upholstered armchair and appeared to issue a warning to Pope Francis.
. . . .
Papal power, Burke warned, "is not absolute." He added, "The pope does not have the power to change teaching [or] doctrine."
Burke's words belied a growing sense of alarm among strict conservatives, exposing what is fast emerging as a culture war over Francis's papacy and the powerful hierarchy that governs the Roman Catholic Church.
. . . .
The conservative rebellion is taking on many guises, in public comments, yes, but also in the rising popularity of conservative Catholic Web sites promoting Francis dissenters; books and promotional materials backed by conservative clerics seeking to counter the liberal trend; and leaks to the news media, aimed at Vatican reformers.
In his recent comments, Burke was also merely stating fact. Despite the vast powers of the pope, church doctrine serves as a kind of constitution. And for liberal reformers, the bruising theological pushback by conservatives is complicating efforts to translate the pope's transformative style into tangible changes.
. . . .
Rather than stake out clear stances, the pope is more subtly, often implicitly, backing liberal church leaders who are pressing for radical change, while dramatically opening the parameters of the debate over how far reforms can go. For instance, during the opening of a major synod, or meeting, of senior bishops on the family last year, Francis those gathered, "Let no one say, 'This you cannot say.' "
. . . .
Conservatives counter that in the current climate of rising liberal thought, they have been thrust unfairly into a position in which "defending the real teachings of the church makes you look like an enemy of the pope," a conservative and senior Vatican official said on the condition of anonymity in order to speak freely.
More often, dissent unfolds on ideological grounds. Criticism of a sitting pope is hardly unusual - liberal bishops on occasion challenged Benedict. But in an institution cloaked in traditional fealty to the pope, what shocks many is just how public the criticism of Francis has become.
In an open letter to his diocese, Bishop Thomas Tobin of Providence, R.I., wrote: "In trying to accommodate the needs of the age, as Pope Francis suggests, the Church risks the danger of losing its courageous, countercultural, prophetic voice, one that the world needs to hear." For his part, Burke, the cardinal from Wisconsin, has called the church under Francis "a ship without a rudder."
Read more
Kasper: The Synod Will Have to Discuss the 'Practical Schism" in the Church
Gerard O'Connell Sep.6 2015
"Many people experience the (church's) doctrine as far from reality. There is a kind of practical schism. Christian couples very committed to the church, for example, do not live the teachings of the encyclical 'Humanae Vitae' regarding birth control. It's a problem that needs thinking about."
Cardinal Walter Kasper, the renowned German theologian and emeritus president of the Pontifical Council for the Promotion of Christian Unity, , a leading Argentinian daily. The interview, conducted by Mariano de Vedia, was published on September 6.
Asked how the church faces "practical schism" today, Kasper replied, "In silence. This problem, in general, is not spoken about. Sometimes because we do not wish to lose a lot of Catholics. Certainly the next synod will have to speak about these themes. The International Theological Commission, in a recent document, highlighted the importance of listening to the voice of the faithful before speaking about a subject."
. . . .
Responding to a question on whether there's tension in the Church between doctrine and pastoral action he said, "pastoral (action) cannot go against doctrine, but doctrine cannot be an abstract affirmation. Its interpretation has to be linked to real life. Jesus Christ always talked about the reality of the person, aware that we are all sinners. There can be a certain tension between doctrine and pastoral (action), but this tension is normal and is distinct from practical schism, which causes division."
He doesn't know whether the synod will address this question of practical schism but said, "I hope so". The October 2014 synod "didn't talk enough about this," he said, and speaking as a dogmatic and not a moral theologian, he doesn't have "solutions" to this problem.
Cardinals Justin Rigali & Raymond Burke Abuse of Office
Jerry Berger Sep.12, 2015
Next Wednesday, the Catholic Whistleblowers Steering Committee will submit to Pope Francis'newly-established Vatican tribunal cases of abuse of office against the cardinals for their behavior in the St. Louis Archdiocese. The tribunal investigates and holds accountable bishops who abuse their office in matters of sexual abuse of minors and vulnerable adults. Members of the Whistleblowers Steering Committee include Dr. Robert M. Hoatson who will represent and speak on behalf of Carol Kuhnert whose brother, Fr. Norman H. Christian, deceased of the St. Louis Diocese, who sexually abused children before and during his years as a priest.
Pope Francis sharpens his focus
. . . .
One of the most recent examples of Francis doing it his way, rather than conforming to expectations of how popes are supposed to discharge their sacred duties, came several days ago when he nipped out of the Vatican early one evening to buy a new pair of eyeglasses.
. . . .
As the white-cassocked Francis stepped out of his modest ride, an excited crowd of tourists and Romans who were out for a pre-dinner stroll or to do some window-shopping quickly surrounded him.
"What so strange?" the pope joked. "If you want to change your glasses you go to an optician."
. . . .
And, indeed, there was more to his trip to the eyeglass store than -- excuse the pun -- what meets the eye.
Actually, the optician was supposed to go to the Vatican next day to adjust the Pope's prescription privately in his Santa Marta Residence. But Francis decided he would go to the optical shop, instead.
The gathered crowd watched through the storefront window for the forty or so minutes it took the eye technician to examine his famous patient and fit him with new specs.
There is no doubt that the Pope wanted all of this to be observed and duly noted. Otherwise, he would not have gone at one of the busiest times of the day or without trying to slip by incognito.
No, Francis carefully arranged this seemingly normal outing to make a very important statement.
. . . .
Interestingly, he told the optician during his recent outing he did not want new frames but only wanted to change the lenses.
By doing that so publicly and with such popular fanfare he was sending an unmistakably clear message to those who have still not embraced the reforming spirit he's trying to instill in the church.
And that message was this: the framework for reform has not changed, but the pope has sharpened his eyesight and will focus with greater clarity to bring forth his vision for a church that takes risks, is poor for the poor and lavishly shows mercy.
Intentionally drawing a crowd outside the eyeglass shop was also meant to send a message -- that even if some professional church people, including bishops, are still lukewarm towards Francis, the people -- at least for now -- are enthusiastically following him.
Disgraced Vatican nuncio Wesolowski, awaiting trial for sexual abuse, dies
Initial results from an autopsy of the body of the deceased former Vatican ambassador to the Dominican Republic indicated that the disgraced papal representative died of natural causes stemming from some sort of "cardiac event," the Vatican said in a statement Saturday.
The autopsy, the Vatican said, is being performed by three medical experts led Giovanni Arcudi, the dean of forensic medicine at Rome's public University of Tor Vergata.
"The investigations took place yesterday afternoon and, by the initial conclusions of the macroscopic examination, confirmed the natural cause of death, attributable to cardiac event," read the statement.
In coming days, the statement said, further laboratory test results will be carried out from the autopsy and then communicated.
. . . .
Although the former diplomat had been laicized last year, the Vatican communication regarding his death referred to him as "His Excellency Msgr. Jozef Wesolowski."
Read more
Catholic Monk Meets Drone on a Sunday Afternoon
A late-August encounter between a camera-armed drone and a man sunbathing on a towering wind turbine drew millions of viewers to the YouTube
video
and stirred debate about the privacy issues raised by the cool but intrusive flying gadgets.
In the video, the drone's camera pans a portion of Rhode Island's glorious coastline before it moves in to examine the turbine tower, and then draws near to the peaceful figure gazing at the verdant landscape bordered by the sea.
Strikingly, the sunbather seems unbothered by the intrusion and happy to share the experience of a peaceful Sunday afternoon
What's the secret to his generous spirit and equanimity? Maybe the fact that he's a Benedictine by the name of Brother Joseph Byron, who has been formed to balance work and prayer, and schooled to appreciate God's gift of creation.
Help Support ARCC with AmazonSmile
You shop. Amazon gives.
Do you make purchases at Amazon? Do you buy Kindle books from Amazon? Consider going through
AmazonSmile
.
Amazon.com will donate 0.5% of the price of
your eligible purchases to ARCC whenever you shop on
AmazonSmile
.
ARCC can earn a penny every time you search the Internet. GoodSearch.com donates half its revenue, about a penny per search, to the charities its users designate. You use it just as you would any search engine. Go to www.goodsearch.com and enter ARCC as the charity you want to support. Just 50 of us searching four times a day will raise about $730 in a year without anyone spending a dime.
Association for the Rights of Catholics in the Church