ARCC invites our Newsletter friends who are not already members to consider joining and supporting ARCC.
This is the day, O God, that you have made.
Raising Christ from the dead,
and raising us with Christ,
you have fashioned for yourself a new people,
washed in the waters of baptism,
sealed with the gift of the Spirit,
invited to the banquet of the Lamb.
Through the presence of every
friend and stranger,
reveal to us the face of the one who has entered into glory,
Jesus Christ, our Passover and our Peace
Some things we have been reading
The Historic Meeting of two Popes
Pope Francis traveled Saturday to this hill town south of Rome to have lunch with his ''brother'' and predecessor Benedict XVI, a historic and potentially problematic melding of the papacies that has never before confronted the Catholic Church.
The two men dressed in white embraced warmly on the helipad in the gardens of Castel Gandolfo, where Benedict has been living since he retired Feb. 28 and became the first pope to resign in 600 years.
And in a series of gestures that ensued, Benedict made clear that he considered Francis to be pope while Francis made clear he considered his predecessor to be very much a revered brother and equal.
. . . .
The Vatican spokesman said the two spoke privately for 40-45 minutes, followed by lunch with the two papal secretaries, but no details were released.
Behind Image of Seamless Transition, Vatican Navigates Uncharted Waters
Elisabetta Povoledo

Mar.23, 2013
Sharing lunch is rarely historic, except perhaps when the two eating are a pope and his predecessor.
. . . .
Vatican officials gave no word about what the past and present leaders of the Roman Catholic Church discussed, and even rebuffed questions about what they ate. They did, however, paint a picture of a seamless transition: when Benedict offered his successor the "place of honor" during shared prayers, the Vatican said, Francis demurred, suggesting that they kneel side by side as "brothers."
. . . .
But the reality of a pope and an emeritus pope living in his shadow will probably be more complicated, a fact driven home with the recent publication in an Italian gossip magazine of paparazzi-style photos of the 85-year-old Benedict strolling with his personal secretary through the private gardens of his temporary home at Castel Gandolfo.
. . . .
During this transition, the new pope, the cardinals and the Vatican have gone out of their way to express affection and gratitude toward the pope emeritus. But each time they do, it does more to deepen the complexity of the relationship than to clarify it.
. . . .
There has been an unexpected amount of attention lavished on a man who had pledged to live out his days "hidden from the world." As Francis' papacy lengthens, the reasons for Benedict's eventual seclusion inside the Vatican become clearer.
It is, Vatican experts said, a solution that not only provides a secure environment for Benedict, but also effectively avoids setting up a power center rivaling the Vatican. And it discourages any following that could coalesce around the pope emeritus in a church mindful of painful schisms that have shaken it at important moments in its history.
. . . .
The Vatican has played down the novel accommodation. To have the pope emeritus "present, near, discreet" will provide a "great enrichment" for the new pope, the Vatican spokesman, the Rev. Federico Lombardi, told reporters recently.
But having a former pope hovering in the background has proved to be disconcerting to some, not least the pontifical staff. The potential for divided loyalties has already provided fodder for the Italian news media.
Benedict's personal first secretary, Archbishop Georg Gänswein, has been living at Castel Gandolfo with his old boss. But he is also the prefect of the pontifical household, and he has been a discreet fixture at Francis' first public outings, including Saturday's lunch. He has now been described in the Italian news media as the "ferryman" between the two pontificates.
. . . .
Benedict's higher-than-anticipated profile has perplexed some. "It is baffling that the pope should appear in public as he did before; it's incomprehensible," said Massimo Franco, a commentator for the newspaper Corriere della Sera, after the photographs appeared in the gossip magazineChi.
"I understand that it will be difficult to regulate, but the Vatican will have to establish some rules," Mr. Franco said.
The Vatican has rejected any prospect of meddling by Benedict. But concern remains among some cardinals, Vatican officials and church experts
"There is a duality, and even if the old pope says he will retire from the world, he will be an awkward presence," said Roberto Rusconi, a church historian at Third University of Rome.
Pope Francis to live in Vatican guesthouse, not papal apartments
Cindy Wooden

Mar.26, 2013
Pope Francis has decided not to move into the papal apartments in the Apostolic Palace, but to live in a suite in the Vatican guesthouse where he has been since the beginning of the conclave that elected him, said Jesuit Father Federico Lombardi, Vatican spokesman.
"He is experimenting with this type of living arrangement, which is simple," but allows him "to live in community with others," both the permanent residents -- priests and bishops who work at the Vatican -- as well as guests coming to the Vatican for meetings and conferences, Father Lombardi said March 26.
The spokesman said Pope Francis has moved out of the room he drew by lot before the conclave and into Suite 201, a room that has slightly more elegant furnishings and a larger living room where he can receive guests.
Read more
The secret report Benedict wrote for Francis
Marco Tosatti
Mar.22, 2013
Pope Francis will have some reading to do in the next few days. And not so much the report by the three Cardinal "wise men" on Vatileaks, as a staff memorandum written by Benedict XVI, a kind of user's manual. It was mentioned in Avvenire (the newspaper of the Italian Bishop's Conference) . . . . "anyway, and I'm not referring to the Vatileaks dossier, Benedict XVI has left on his successor's desk something like three hundred pages written personally to his attention, that's what they tell me in Rome". Like a good captain, Pope Ratzinger has left a "delivery" for the one who would take over the helm of the boat.
And it is likely that it is to these travel notes, more than the report by the three Cardinals, that Pope Francis will be devoting his attention. Criticism and doubts are growing about this latter report, the more it comes to light just how the Commission went about its work. Relying primarily on the "complaints" of the current Nuncio to the United States, Carlo Maria Viganò, and above all recording statements and accusations but without, in many cases, permitting a cross-examination. . . . .
. . . .
But the imbalance in the Vatileaks report by the three Cardinals in favour of what Viganò was claiming, together with other elements, reflects negatively on the credibility of the entire report. Also because some cracks have appeared in the image of the great accuser, and not minor ones at all. He has never been willing (more than a year after his departure for the United States) to make available the apartment he occupied at the Governorate, which is still closed with all his furniture inside. . . . .
In addition, just a few days ago the news came out alleging that Vatileaks all springs from a lie. Lorenzo Viganò, a Jesuit biblical scholar, has declared in an interview that his brother "lied to Ratzinger when he asked to remain in Rome because he had to take care of me, sick". According to what has been written, to oppose the transfer to Washington, Carlo Maria Viganò allegedly wrote to Pope Ratzinger saying that he could not leave on account of the "necessary, dutiful and direct assistance" that engaged in towards his brother. Lorenzo, who lives in Chicago, says in the interview that he is fine, and has not spoken with his brother for two years, due to "tensions on account of our inheritance". And he says, "it is very serious that Carlo Maria has written falsely to the Pope, instrumentalizing me for personal ends".
One unanswered question from yesterday's meeting between Pope Francis and retired Pope Benedict: What was in the box?
The Vatican video showed the two men sitting down for their 45-minute private conversation, facing a table on which a white box was placed. On top of the box were two large envelopes.
As soon as the image was shown in the Vatican press office, reporters joked that the box must have held the famous Vatileaks dossier, the confidential report prepared for Benedict by three cardinals and left by the ex-pope to Francis.
If the dossier needed a box that big, things were worse than anyone thought.
More likely, sources said, was that the box contained correspondence for Benedict - letters, emails and other communication - that arrived after the German pope left office Feb. 28. The Vatican had said that goodbye messages were pouring in for the pope from world leaders and average people.
He's Pope But Doesn't Want To Say So
Sandro Magister Mar.25, 2013
In the first days of his pontificate, Jorge Mario Bergoglio has used very sparingly the word "pope."
He has never applied it to his living predecessor, Joseph Ratzinger, whom he met last Saturday at Castel Gandolfo. For him he has used always and only the title of "bishop."
And also for himself he has preferred to associate the definition of "bishop of Rome."
In his first blessing from the loggia of the basilica of St. Peter, on the evening of March 13, the newly elect specified, citing St. Ignatius of Antioch, that the Church of Rome "is that which presides in charity over all the Churches." But in the following days he has neither revisited nor developed this character of primacy of the see of Peter, extended to the whole Christian ecumene.
. . . .
Francis is a pope of unpredictable remarks. And sooner or later it is expected that he will speak out, making explicit the vision that he has of his role.
But in the meantime it is happening that those inside and outside of the Church who are hoping for the reduction, if not the demolition, of papal primacy see in him the man to meet their expectations. Expectations that they often base upon a presumed "spirit" of the council.
. . . .
The innovations could concern, on the other hand, the forms in which the pope will exercise his powers in conjunction with the whole body of the bishops, as happens in councils, or in synods, or in other unprecedented forms of collegial governance of the Church, both intermittent and permanent, expanded or restricted, in any case always convened, presided over, and confirmed by him, as prescribed by Vatican Council II and by other documents of the magisterium.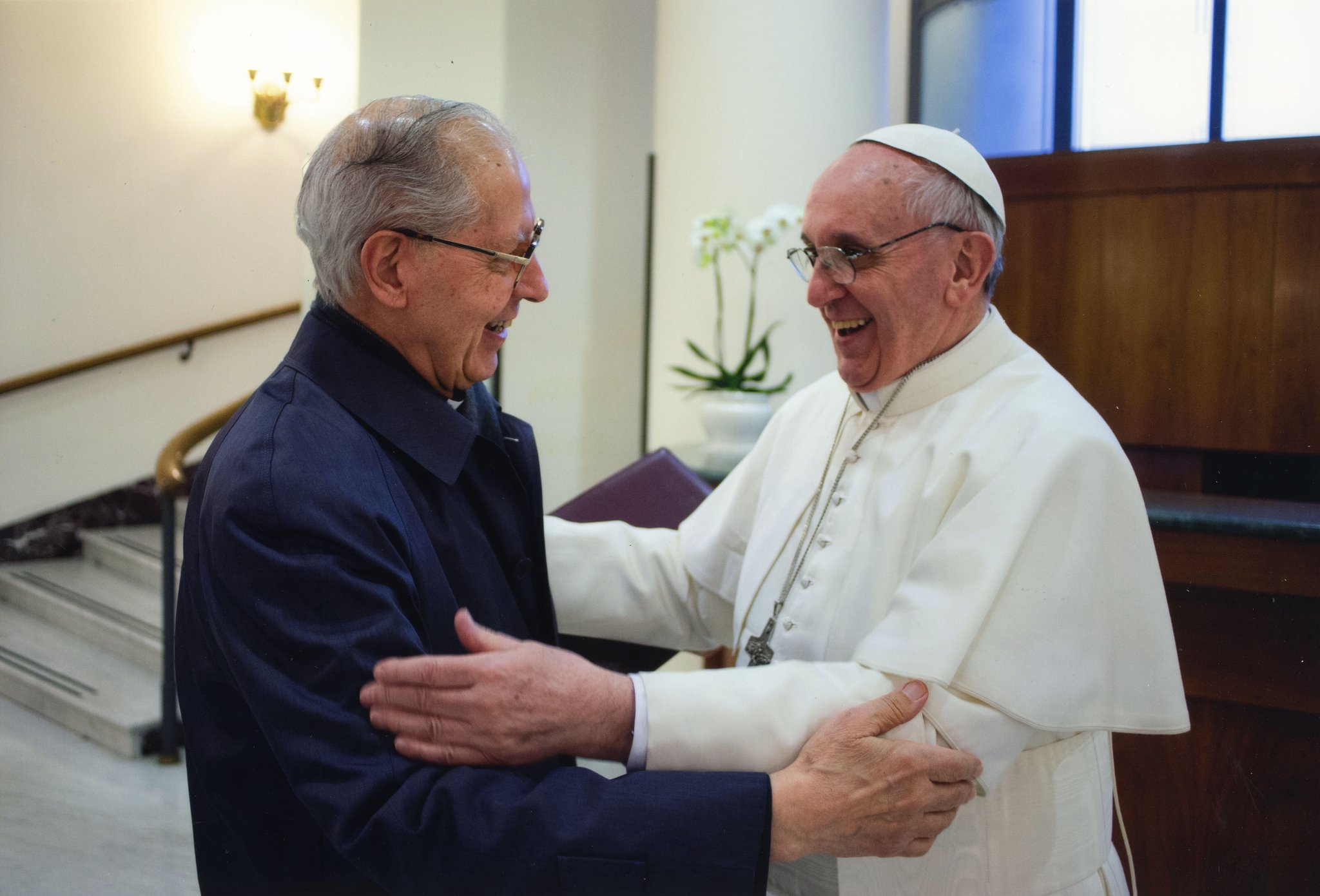 Pope Francis greeting Jesuit Superior General Adolfo Nicolas.
Is the Pope Still a Jesuit?
James Martin, SJ

Mar.21, 2013
A Jesuit is a Jesuit forever, from the day he enters the novitiate until his death, unless he formally leaves the Society of Jesus or in religious parlance is "dismissed."
. . . .
Most Jesuits, when they have finished their Jesuit training, or "formation," are invited to not only to pronounce the three vows of poverty, chastity and obedience (which they first pronounced at the end of their novitiate), and the special "fourth vow" to the Sovereign Pontiff "with regards to missions" (that is, an openness to be sent anywhere in the world, or on any mission), they also make several "promises." Among them is a promise is not to "strive or ambition" for any high office or "dignity" in the Society of Jesus or the church. This promise was intended by St. Ignatius to prevent Jesuits from the kind of clerical climbing that he found so distasteful in his time. So Jesuits are supposed to avoid all such offices.
But sometimes the Vatican will ask a Jesuit to become a bishop, or an archbishop, often in places where the church has fewer local vocations, or when the Jesuit is seen by the Vatican as an outstanding candidate for the episcopacy. When that happens the Jesuit will ask the permission of the Superior General, and it is almost always granted. . . . .
If the Jesuit accepts the invitation . . . . the Jesuit then is formally "dispensed" from his vows of obedience and poverty. Obedience because he obviously is not taking orders from the Superior General any longer. Poverty because under canon law a bishop must own property.
But the man is still considered a Jesuit by tradition--if not canonically. . . . . And usually they themselves consider themselves as member of their orders, even after their ordination to the episcopacy.
. . . .
The best "proof" of this is the official communique from the Jesuit Curia on the election of Pope Francis, in which the Superior General of the Society of Jesus, Father Adolfo Nicolas referred to him first as "Cardinal Jorge Mario Bergoglio, S.J.," using the traditional abbreviation for a Jesuit (S.J.) and then called him "our brother." Cardinal Bergoglio himself used the "S.J." when signing letters addressed to his diocese.
. . . .
Finally, when the Pope met Father General last week, Francis said that Father Nicolas should treat him like any other Jesuit.
So yes, traditionally, the Pope is still considered a Jesuit.
Pope to Priests: "Go To the 'Outskirts'"
HOLY THURSDAY CHRISM MASS
Pope includes women for first time in Holy Thursday rite
Philip Pullella Mar.28, 2013
Two young women were among 12 people whose feet Pope Francis washed and kissed at a traditional ceremony in a Rome youth prison on Holy Thursday, the first time a pontiff has included females in the rite.
The pope travelled to the Casal del Marmo prison on Rome's outskirts for the traditional Mass, which commemorates Jesus's gesture of humility towards his apostles the night before he died.
The ceremony has been traditionally limited to men because all of Jesus' apostles were male. The Vatican spokesman said two of the 12 whose feet were washed were Muslim inmates.
While the former Cardinal Jorge Bergoglio included women in the rite when he was archbishop of Buenos Aires, it was the first time women had taken part in a papal Holy Thursday ceremony.
I wash your feet to remind you that we have to help each other
Benedict & Francis: Side by side
Francis X. Rocca Mar.25, 2013
CNS Bureau Chief Francis X. Rocca talks about the continuity of Pope Francis' pontificate with that of Pope Benedict XVI.
Popes Francis, Benedict team up for Shroud of Turin TV special
Viewers of Italian State TV will get a pre-Easter treat Saturday when Pope Francis introduces a 90-minute broadcast of the Shroud of Turin. Many people believe the image on the Shroud was made when Jesus rose from the dead following his crucifixion some 2,000 years ago.
. . . .
The Vatican described the rare broadcast as Pope Emeritus Benedict XVI's "parting gift to the Roman Catholic church," according to The Guardian.
Before stepping down as pontiff, the previous pope gave the green light to a special 90-minute broadcast of the shroud from Turin Cathedral. His successor, Pope Francis, is scheduled to give a brief introduction of the garment before the TV broadcast begins.
Cesare Nosiglia, the archbishop of Turin, was quoted in media reports as saying, "It will be a message of intense spiritual scope, charged with positivity, which will help hope never to be lost."
Vatican's 'invisible ones' join pope for Masses
Cindy Wooden

Mar.22, 2013
Dressed in orange safety vests, green jumpsuits or other workers' attire, Vatican gardeners, garbage collectors and cleaning crews joined Pope Francis for a 7 a.m. Mass March 22.
Usually in the Vatican, "we're the invisible ones," Luciano Cecchetti, coordinator of the Vatican gardeners and sanitation workers, told Vatican Radio after the Mass.
"To find ourselves before the Holy Father, at a Mass for us, is something that doesn't happen every day. I turned and looked at the faces of the employees: We all left there misty-eyed," he said.
After the Mass, there was time for private prayers. Pope Francis joined the others, going to a seat in the last row of chairs in the chapel of the Domus Sanctae Marthae, where he is staying.
Before the employees headed back to work, Pope Francis greeted each of one of them.
. . . .
Along with the outdoor crews, the congregation included members of three women's religious orders who work in the Vatican: The Daughters of Charity of St. Vincent de Paul, who run a free pediatric clinic for the poor; the Daughters of the Sacred Hearts of Jesus and Mary, who care for retired nuncios living at the Vatican; and the Polish Presentation Sisters, who staff a Vatican storage facility.
Father Lombardi said the pope also had special guests at Mass March 21: the cooks, cleaning crew and other staff of the Domus Sanctae Marthae.
Pope takes back row
Pope Francis' Honeymoon: How Long Will It Last?
David Gibson

Mar.23, 2013
Since the moment of his election on March 13, Pope Francis has been warmly embraced by his own flock and even the media and the wider public in a way his bookish predecessor, Benedict XVI, was not.
. . . .
Yet even as the former Cardinal Jorge Bergoglio basks in this broad approval as Pope Francis, some constituencies in the Catholic Church are cautious or even angry at his election, and their concern has only grown in the early days of his pontificate.
Chief among the critics are the liturgical traditionalists who reveled in Benedict's exaltation of old-fashioned ways, and are now watching in horror as Francis rejects the extravagant vestments and high-church rituals that were in en vogue for the past eight years.
. . . .
Given that traditionalists are some of the most devoted and vocal Catholics in the church, and that they retain both contacts and influence in the upper ranks of the hierarchy, their pessimism could spell trouble for Francis.
The same could be said of politically conservative Catholics, especially those from the U.S. who have enjoyed access and approval in Rome for decades, under both Benedict and the late John Paul II.
. . . .
On the other side of the spectrum, however, some left-wing Catholics are leery of Francis, or openly criticize him for what they see as his antagonism to gay rights. They also question his track record on sex abuse by clergy and his disputed role during Argentina's "Dirty War" in the 1970s, when some say he was not sufficiently vocal in speaking out against the military junta.
. . . .
By contrast, mainstream Catholics, and Catholic Democrats in particular, have welcomed Francis' election not only because of his appealing common touch but also because his statements on behalf of the poor may hold out a chance for leveling the playing field in the church's internal culture wars.
The new pope's words about fighting economic exploitation and "being a poor church, for the poor" are so insistent that they could put the church's social justice teachings back on par with its doctrines on abortion and sexual ethics, which have been so prominent for so long that some complain they outweigh any other tenets.
Still, even Catholic progressives could wind up disappointed as Francis begins to unveil his appointments and policies, just as traditionalists and conservatives could be cheered or at least reassured that all is not lost.
Read more
Pope Quotes Opus Dei Founder in Greeting to Students
Pope Francis quoted the founder of Opus Dei as he greeted some 3,000 university students who attended Wednesday's general audience as part of the UNIV program sponsored by the prelature.
The Holy Father spoke only in Italian during the audience, but mentioned the group's English-speaking participants. To the Italian-speakers of the group, he added:
"In particular, I salute the university students participating in the international meeting promoted by the Prelature of Opus Dei. Dear friends, you have come to Rome in Holy Week for an experience of faith and spiritual enrichment. Thank you for your prayers and for your affection for the Pope. With your presence in the academic world, may every one of you realize what St. Josemaria Escrivá proclaimed: 'It is in the midst of the most material things of the earth that we must sanctify ourselves, serving God and all men' (Conversations, no. 13)."'
Pope appoints first bishop
Pope Francis has chosen Bishop Mario Aurelio Poli to succeed him as Archbishop of Buenos Aires, in the first episcopal appointment of his fledgling pontificate.
The 65-year-old native of the Argentine capital was an auxiliary bishop under then-Cardinal Jorge Bergolio before being named ordinary of the Diocese of Santa Rosa in 2008.
Archbishop-elect Poli has degrees in law and social sciences and social service in addition to a doctorate in theology. He has been a theology professor and seminary formator, as well as a parish priest.
Pope Francis' appointments will create church of the future
If Pope Francis is serious about reforming the Roman Curia, God bless him. Further, if he undertakes that reform with the poor in mind, the first question is not where might he begin, but how long has he got?
Of our nine popes since 1913, only Pius XII, John Paul II and Benedict XVI have made it to 82 or beyond. So the question about a 76-year-old pontiff isn't as impertinent as it first may seem.
Francis lives simply, walks quickly and walks a lot. Can we assume (to achieve Pius XII's 82 years) the new pope has six vigorous years to work with?
If so, six years takes the story to 2019. By 2019 Francis will be able to appoint about 40 percent of the College of Cardinals, approximately 50 of the 120.
Special Report: Behind the charm, a political pope
Paulo Prada and Helen Popper Mar.27, 2013
When Jorge Bergoglio finished studying chemistry at high school his mother asked him what he would study next.
"Medicine," replied the skinny 19-year-old, according to his younger sister, Maria Elena.
Bergoglio's mother cleared a storage room in the family's working-class Buenos Aires home for him to use as a study. Every day, after his morning job in a lab, he would arrive home and disappear into the room.
One morning, though, his mother got a surprise. In the room, she found not anatomy or medicine texts but books on theology and Catholicism. Perturbed at his change of course, she confronted her eldest son.
"What is this?" she asked.
Bergoglio responded calmly: "It's medicine for the soul."
For the man who last week took over at the head of the Catholic Church, the shift from medicine to religion was the first of many in a career that has often defied expectations. It was also an early hint at what Argentines who know Bergoglio, now 76, describe as a steely determination - prepared even to mislead his mother - that lies beneath his charming and modest exterior.
"Jorge is a political man with a keen nose for politics," says Rafael Velasco, a Jesuit priest and former colleague who is now rector of the Catholic University of Cordoba, in central Argentina. "It's not an act, the humility. But it's part of his great capacity to intuitively know and read people."
Francis dips into Vatican II imagery
Thomas C. Fox Mar.22, 2013
I was struck by the way Pope Francis today greeted members of the diplomatic corps accredited to the Vatican. He welcomed them saying that it is through them that he encounter(s) your peoples, and thus, in a sense, "I can reach out to every one of your fellow citizens, with their joys, their troubles, their expectations, their desires."
What jumped out at me was the similarity between his words and those in the opening sentence of the Pastoral Constitution on the Church in the Modern World, that most important Vatican II document, which began: "The joys and the hopes, the griefs and the anxieties of the men (and women) of this age, especially those who are poor or in any way afflicted, these are the joys and hopes, the griefs and anxieties of the followers of Christ."
The priestly formation of Jorge Mario Bergoglio, now Pope Francis, occurred during Vatican II. He is the first pope to have been ordained a priest after the council. Bergoglio was ordained a Jesuit in 1969.
. . . .
Where do we go from here?
It is too early to know precisely.
However, early indications are that we are moving into an era of collegiality, into an era of a more inclusive model of church. Collegiality, greater shared decision-making, was one of the primary goals of Vatican II.
Many questions await us. The need for women to be decision-makers in the church is much more pressing than it was 50 years ago, if we are to go forward in health.
For now, what lifts my spirit is to see Francis, not only using Vatican II words, but modeling those words. Vatican II was a spring board. Maybe we'll fly again.
Pope Francis sends greetings to new Archbishop of Canterbury
Vatican Radio Mar.21, 2013
Pope Francis today sent a message to the new Archbishop of Canterbury on the occasion of Dr. Justin Welby's enthronement at Canterbury Cathedral.
Below, please find the full text of Pope Francis' greetings to Archbishop Justin Welby of Canterbury.
To the Most Reverend and Right Honourable
Justin Welby
Archbishop of Canterbury
"May grace and peace be multiplied to you" (1 Pet 1:2b)
I thank you for the kind words contained in your message to me at my election, and I wish in turn to offer my greetings and best wishes on the occasion of your Enthronement at Canterbury Cathedral.
The pastoral ministry is a call to walk in fidelity to the Gospel of our Lord Jesus Christ. Please be assured of my prayers as you take up your new responsibilities, and I ask you to pray for me as I respond to the new call that the Lord has addressed to me.
I look forward to meeting you in the near future, and to continuing the warm fraternal relations that our predecessors enjoyed.
From the Vatican, 18 March 2013
FRANCIS
URL
Will Pope Francis Inspire More Priest Scientists?
John Farrell Mar.24, 2013
This week's issue of Nature notes with approval that the new Pope Francis has a background in science.
A pope who's also a scientist is rare. But these days even parish priests who are scientists are not exactly common.
To be sure, everyone knows the name of Gregor Mendel, the founder of genetics. And there's my hero, the Belgian priest and physicist Georges Lemaitre, who came up with version 1.0 of The Big Bang.

But there used to be many more.

A few years ago, Physicist and author Stephen Barr discussed the many contributions that Catholic priests made to science in the early days of the Scientific Revolution. And they are not insignificant
. . . .
It's ironic, but if I had to nominate one pope who probably did more damage to the Church's attitude to science and the clergy in the past two centuries, it would be the man who was pontiff exactly one hundred years before the current one.
In his study, Roman Catholicism and Modern Science, Irish historian Don O'Leary paints a depressing portrait of the anti-intellectual Pope Pius X [1903-1914].
. . . .
In his encyclical Pascendi Dominici Gregis, (1907), O'Leary adds, Pius made it clear he was not enthusiastic about the study of the natural sciences in the seminaries.
. . . .
While the hostility of Pius X toward scholars is no longer prevalent in today's Vatican, there is not much evidence that science is encouraged in the seminaries (although the study of bioethics has certainly blossomed).
Now that the Pope is himself a scientist, will he encourage the study for its own sake?
Perhaps in the next few years, in the grand tradition of his own order, the Jesuits, Pope Francis will inspire a new generation of seminarians to go into the sciences before they take their Holy Orders.
British Catholic legislators ask pope to relax priestly celibacy rule
Simon Caldwell Mar.27, 2013
Twenty-one Catholic members of Parliament have written to Pope Francis to ask him to relax the rule on priestly celibacy for Latin-rite priests.
The members of the House of Commons and the House of Lords said in a letter Monday to the pope that the rule should be changed to allow married men to be ordained priests where pastoral needs required it.
They suggested it was unfair to allow married former Anglican ministers to be ordained as Catholic priests in England, Wales and Scotland while the church insisted on the celibacy rule for Catholic candidates in those countries.
The letter did not suggest that serving priests should be given permission to marry, and the legislators proposed that the celibacy rule be retained for bishops, as in the Eastern Catholic churches, which allow priests to marry.
Read more
Pope Francis to consider closing Vatican bank
Pope Francis is to consider abolishing the Vatican Bank - which has been beset by a scandal over allegations of money-laundering - in a drive for greater transparency at the heart of the Catholic Church, according to a report by The Times in The Australian.
Archbishop Claudio Maria Celli, who has been tipped as a possible secretary of state, or "Vatican prime minister", said Francis would weigh up appeals made by two cardinals on the eve of his election for the bank - formally known as the Institute for Works of Religion (IOR) - to be scrapped.
He said the Pope would be guided by a desire for "transparency . . . . and faithfulness to international laws or rules in this field", including those on money-laundering.
"The Pope will consider some suggestions because during the general congregations (the formal meetings that preceded the conclave), some cardinals were intervening about the problems of the IOR," Archbishop Celli said.
Cuban cardinal reveals Bergoglio's remarks prior to conclave
Cuba's Catholic primate, Jaime Ortega, made public in Havana a manuscript with remarks made by Jorge Bergoglio about the mission of the church in a session before the conclave that elected him pope.
The manuscript was presented "exclusively" to Cardinal Ortega by Bergoglio before the Argentine prelate became Pope Francis I, and the thinking it contains "could have guided the selection of the cardinals" on March 13, Cuban Catholic Church magazine Palabra Nueva said Tuesday.
. . . .
Regarding the characteristics that the new pontiff should have, Bergoglio said that he should be "a man who, from the contemplation of Jesus Christ and from the adoration of Jesus Christ, helps the Church to move outside itself to the existential peripheries."
"When the Church does not move outside itself to preach the Gospel it becomes self-referential, a kind of theological narcissism," he said.
"This should shed light on the possible changes and reforms that need to be made for the salvation of souls," Bergoglio added.
Documentary of election of Pope Francis
Vatican Information Service

Mar.26, 2013
"Francesco - Elezione di un Papa che viene dalla fine del mondo" (Francis: Election of a Pope from the Ends of the Earth) is the title of the documentary from Vatican Television, made in collaboration with the Officina della Comunicazione (OC) and the Italian newspaper, Il Corriere della Sera. The DVD will be distributed as a supplement to the Friday, 2 April edition of the newspaper.
The documentary registers the events following Pope Benedict XVI's renunciation of the papacy, the days of the Sede Vacante, and the conclave that brought the election of Cardinal Jorge Mario Bergoglio as the new Pope. Through images and previously unpublished interviews with four cardinals-Cardinal Angelo Comastri, archpriest of the Basilica of St. Peter; Cardinal Oscar Rodriguez Maradiaga, archbishop of Tegucigalpa, Honduras; Cardinal Gianfranco Ravasi, president of the Pontifical Council for Culture; and Cardinal Angelo Sodano, dean of the College of Cardinals-it reconstructs the most important stages of this period, culminating in the meeting of the two pontiffs this past Saturday, 23 March, in Castel Gandolfo.
Same symbols, different details: Papal coat of arms undergoes changes
The papal coat of arms has undergone a few major adjustments to more clearly reflect the symbolism of Mary and St. Joseph.
The five-pointed star has been replaced with an eight-pointed star, and the spikenard flower looks more like a flower rather than a bunch of grapes, as it did in its original form.
The Vatican published the new coat of arms on its website March 27.
High profile Muslim convert quits Catholic Church
Magdi Cristiano Allam, an Egyptian-born Muslim whom Pope Benedict publicly baptised at Easter five years ago in St Peter's Basilica has announced that he is leaving the Church because it has taken too soft a stand against Islam.
"My conversion to Catholicism, which came at the hands of Benedict XVI during the Easter Vigil on 22 March 2008, I now consider finished in combination with the end of his pontificate," Mr Allam wrote on Monday in the right-wing Milan daily, Il Giornale.
The 61-year-old journalist and right-wing politician has long been an Italian citizen. He said he had pondered his decision to leave the Church for some time. However, he affirmed that the "last straw" was the election of Pope Francis, which he said was proof that the Church is "troppo buonista" - excessively tolerant.
"The 'papolatry' that has inflamed the euphoria for Francis I and has quickly archived Benedict XVI was the last straw in an overall framework of uncertainty and doubts about the Church," he wrote.
With New Pope, Spotlight Returns to a Mild but Rebellious Priest
Nicholas Kulish

Mar.23, 2013
With his gentle mien and deep blue eyes, the Rev. Helmut Schüller does not seem even remotely disobedient in person. He has the calm, reliable presence of the best parish priests whether in his vestments or, as on a recent afternoon, in street clothes.
But as one of the organizers behind a group of more than 400 priests and deacons who in 2011 issued an "Appeal to Disobedience," Father Schüller, 60, has developed a reputation as one of the leading rebels within the Austrian church.
. . . .
Among the seven points in the appeal, the group said it would "take every opportunity to speak up publicly for the admission of women and married people to the priesthood." The group was rebuked by Pope Benedict XVI in a sermon last year, and Father Schüller was formally stripped of the honorific "monsignor" a few months later.
. . . .
The election of the first pope from Latin America last week was greeted with excitement, a sign of change and tangible evidence that the global church had become a reality. While Pope Francis may plan to concentrate the efforts of his papacy on the fast-growing regions and the problems that preoccupy the poorer parishioners there, he will more than likely have to deal with new challenges from the dissenters in his own backyard, like Father Schüller.
Calls for a larger role for laypeople in church decision making, women in the priesthood and an end to mandatory celibacy for priests have grown in liberal corners of Europe and the United States. Pope Francis will have to deal with the divergent demands of a world church.
. . . .
"It's about church from below," he says, lifting his palms upward from the table, a gesture quite literally uplifting, "or church from above." At that he presses downward. There is no question on which side he comes down.
Cardinal Schönborn: "Fresh Spring Wind in the Church" with Pope Francis
PrayTell Editor Mar.26, 2013
Through Pope Francis, Christ has sent us a fresh spring wind in the Church," said Cardinal Christoph Schönborn at the Blessing of Palms in Vienna. One senses that "Christ is with us along the way."
Cardinal Schönborn summarized his impressions of the first days of the new pope in Rome, saying that what so moved the people in St. Peter's Square about Pope Francis is his "simplicity, humility, and straightforwardness." He added, "Humility makes us free."
Source: Katholische Presseagentur Osterreich
Election of Pope Francis raises alarm for some Latin Mass fans
The simplicity dotting the first days of Pope Francis' tenure gave many Catholics seeking a more humble church reason for optimism. For others, they represented cause for concern, specifically among those who celebrate the traditional Latin Mass.

Francis' decision to omit the papal mozzetta, or cape, from his clerical attire as he first appeared to the crowd in St. Peter's Square launched a frenzy of worry for the fate of the Latin Mass among forums and comment sections of conservative Catholic blogs and websites.
. . . .
The heightened scrutiny of Francis' liturgical style is a product of too much focus placed on the pope in recent years, said Adam DeVille, an associate professor of theology at the University of St. Francis in Fort Wayne, Ind.
. . . .
"I strongly suspect his approach is live and let live. If people want to do Latin and lace, great, go for it. People don't, they want to do something else, that's great, too. He does not strike me as a person who wants to micromanage everybody's life," he said.
Jesuit pope offers hope to some targeted US nuns
Nicole Winfield & Rachel Zoll Mar.22, 2013
The election of a Jesuit pope devoted to the poor and stressing a message of mercy rather than condemnation has brought a glimmer of hope to American nuns who have been the subject of a Vatican crackdown, according to interviews with several groups.
. . . .
In an interview with The Associated Press this week, U.S. Cardinal Timothy Dolan, the head of the U.S. bishops' conference, said he expected Pope Francis would bring "freshness" and understanding to the debate with the Leadership Conference, given Francis' own experience as a Jesuit familiar with the problems of life in religious orders.
. . . .
U.S. Cardinal Francis George of Chicago, who preceded Dolan as head of the U.S. conference bishops, said he didn't expect any major shift in the process and said Francis' Jesuit background would actually bring the Vatican's reform greater credibility to its critics.
. . . .
Sister Simone Campbell, executive director of Network, a social justice lobby founded by nuns four decades ago, said "it can make a big difference" to have a pope who knows about life in religious orders.
. . . .
But Sister Mary Ann Hinsdale, a theologian at Boston College, a prominent Jesuit school in Massachusetts, argued that there is some evidence Francis could take a hard line with American sisters. Jesuits have a different approach to religious authority than many sisters do, grounded in obedience to a superior, she said.
"I would think Pope Francis would have the same understanding," Hinsdale said. Religious sisters' vow of obedience "operates more through the community, more democratically," Hinsdale said.
Read more
Archbishop of Munich, Ratzinger's successor, criticizes "royal court carrying on" in Vatican
Pray Tell Editor Mar.27, 2013
Cardinal Reinhard Marx, successor to Joseph Ratzinger (Pope Emeritus Benedict) as archbishop of Munich, is critical of "royal court carrying on" at the center of the Roman Catholic Church. The Vatican behaves too much like a royal court, Archbishop Marx told the Deutsche Presseagentur (German press agency).
"The successor of Peter can be no monarch. In my view, that would contradict the office of Peter," Marx said. With media coverage of church events such as the election of the pope, there is the danger that superficialities play too great a role, said the 59-year-old.
. . . .
Marx expects a reform of the curia from Pope Francis. . . . . Whether more things could be decided locally rather than in Rome will also have to be examined, Marx said. "I wish to emphasize strongly that we need the central office in Rome. But it must not overreach."
My Prayer: Let Women Be Priests
Roy Bourgeois

Mar.20, 2013
After serving as a Roman Catholic priest for 40 years, I was expelled from the priesthood last November because of my public support for the ordination of women.
Catholic priests say that the call to be a priest comes from God. As a young priest, I began to ask myself and my fellow priests: "Who are we, as men, to say that our call from God is authentic, but God's call to women is not?" Isn't our all-powerful God, who created the cosmos, capable of empowering a woman to be a priest?
Let's face it. The problem is not with God, but with an all-male clerical culture that views women as lesser than men. Though I am not optimistic, I pray that the newly elected Pope Francis will rethink this antiquated and unholy doctrine.
. . . .
Where there is injustice, silence is complicity. What I have witnessed is a grave injustice against women, my church and our God, who called both men and women to be priests. I could not be silent. Sexism, like racism, is a sin. And no matter how hard we may try to justify discrimination against others, in the end, it is not the way of a loving God who created everyone of equal worth and dignity.
. . . .
I have but one simple request for our new pope. I respectfully ask that he announce to the 1.2 billion Catholics around the world: "For many years we have been praying for God to send us more vocations to the priesthood. Our prayers have been answered. Our loving God, who created us equal, is calling women to be priests in our Church. Let us welcome them and give thanks to God."
Father Roy Bourgeois asks to be reinstated to Maryknoll priesthood
Hours after the annual School of the Americas Watch protest ended at the Fort Benning gate last year, the Rev. Roy Bourgeois said the Maryknoll headquarters called and notified him that Pope Benedict XVI had expelled him from the priesthood.
With the election of new Pope Francis, Bourgeois said Friday he is working with an attorney to appeal the decision that expelled him from being a Catholic priest for the next 40 years.
"He signed the order in November and we are appealing it right now," Bourgeois said of Benedict. "We hope the new pope will be more open to women in the church."
Read more
Bishop Bill Morris on reclaiming Vatican II
By way of the Australian Web site Catholica, edited by Brian Coyne, a talk by Australian Bishop Bill Morris on reclaiming the spirit of Vatican II. You may recall that Morris was sacked in 2011 by Pope Benedict XVI, with the help of a secret report fashioned by Archbishop Charles Chaput of Philadelphia. The investigation of Morris was occasioned in large part by a pastoral letter in which he suggested that, given the priest shortage and subsequent pastoral problems, the church should discuss other possibilities, including ordaining women.
Morris in this talk speaks of the vital role of laity in translating the Second Vatican Council and reclaiming its spirit. Not a bad Holy Week reflection.
Stories Tagle tells from inside Vatican
Oh, look at this young boy," the man in a white robe said, stepping out of the elevator.
The man was Pope Francis, elected Pope just the day before. The "boy" was Manila Archbishop Luis Antonio Cardinal Tagle, on his way to lunch in a black shirt and sweater. Tagle did not expect the encounter.
Tagle, feeling improperly dressed as he faced the Pope, felt embarrassed. The Pope reached out and touched the sweater.
"This is a sporty look! I like the way you look," Pope Francis told Tagle, smiling.
. . . .
Pope Francis and the Manila Archbishop know each other, having worked together from 2005-2008. They were "in many activities," Tagle said, the then Archbishop of Buenos Aires often sent his congratulations to Tagle after reading articles Tagle wrote.
"But not even once did I respond to his letters," Tagle said, sounding regretful.
The archbishop is all praise for Pope Francis' humility, simplicity and his need to be with the "little ones."
. . . .
Although he began his voyage to the conclave loathing being the focus of attention, being speculated upon as the next Pope, he eventually accepted it.
The change happened after he met a domestic worker, a Filipino woman, in Italy.
"Ano man po ang mangyari (Whatever happens)," she told Tagle, referring to the outcome of the conclave, "nagpapasalamat po kami sa inyo, kardinal (we are thanking you, Cardinal)." With his getting into the prestigious list of papabiles from all over the world, a warm flame of new respect was lit for the working Filipinos in Italy.
What Drives Me Crazy About the RC Right
Michael Sean Winters Mar.27, 2013
None of us wishes to be judged by our worst moment, our worst decision, or our worst blog post. But, this blog post by Father Zuhlsdorf, with a link to a post by canonist Ed Peters, is a perfect example of what makes me crazy about the Catholic right. They are so obsessively focused on whether or not a bishop or priest can/should wash the feet of women during the Mandatum Rite in the Mass of the Lord's Supper, they put heavy emphasis on the fact that the rite is optional and Peters suggests it should only be used at the Chrism Mass.
I have brought many people, including many non-Catholics, to the Mass of the Lord's Supper and the thing that they always remark upon afterwards is the Mandatum Rite. It is the rite that most perfectly incarnates the Great Commandment. It captures the essence of Jesus' ministry and, just so, the essence of all Christian ministry. It is a rite that should bring tears to the eyes. But, heaven forfend if a bishop or a priest washes a woman's feet! Better to opt out and not do the rite at all. This is insane.
Catholic parish in Missouri raided after child porn downloads
David Edwards Mar.27, 2013
Federal and state authorities on Tuesday raided a Catholic parish in Independence, Missouri as part of an investigation into child pornography.
A spokesperson for the Catholic Dioceses of Kansas City-St. Joseph said that investigators tracked down child porn downloads to an IP address used by an unsecured wireless network at the offices of St. Ann Parish in Independence, according to The Kansas City Star.
Four computers seized in the raid will be analyzed to determine if they were used to download the illegal material from a peer-to-peer network. It is possible, however, that outside computers accessed the wireless network because it was not password protected.
Hushed up: cash probe into priest who made sex complaint against Keith O'Brien
Gerry Braiden Mar.23 2013
A priest at the centre of the scandal that forced the leader of Scotland's Catholics to stand down was forced to leave his parish following an investigation into church finances.
The man is the cleric who has complained to the Vatican he was sexually assaulted by Cardinal Keith O'Brien in Rome on the night he was made cardinal by Pope John Paul II in 2003.
That complaint was made in September 2012. Now it has emerged that, in 2011 the priest, currently on leave of absence from the church, was found to have overspent parish funds by a six-figure sum.
He resigned within hours of the appointment of Hugh Gilbert as Bishop of Aberdeen in August 2011 and several days later was told to leave his presbytery.
. . . .
It has also emerged the priest who complained about Cardinal O'Brien is a long-standing and close friend of a senior figure in the Catholic Church in Scotland and was on holiday with him on the continent months before being told to leave.
The senior church official has been insisting he has had no part in any campaign to bring down Cardinal O'Brien.
Ex-priest admits to drug charge in Connecticut
Daniel Lovering Mar.27, 2013
A former Catholic priest from Connecticut arrested by federal authorities earlier this year on suspicion of dealing methamphetamine has pleaded guilty to conspiracy to distribute the drug, according to court documents.
Kevin Wallin, 61, of Waterbury, pleaded guilty to the conspiracy charge on Tuesday, court documents showed, just before a scheduled appearance in U.S. District Court in Hartford. The conspiracy charge was one of seven charges that he faces.
If convicted, Wallin faces a maximum penalty of life in prison and a fine of up to $10 million.
His lawyer and a spokesman for the Diocese of Bridgeport did not immediately respond to messages seeking comment.
Read more
Kansas City sentencing date set for priest in child porn case
Kansas City Star Mar.28, 2013
A judge announced Wednesday that he will sentence the Rev. Shawn Ratigan in September, more than a year after the Catholic priest pleaded guilty to producing child pornography.
Ratigan pleaded guilty in August to using five girls to produce or attempt to produce child pornography over several years while serving as pastor to congregations in the Northland and St. Joseph. Prosecutors have said they plan to seek a "virtual life sentence" when Ratigan is sentenced Sept. 12.
Charges against Ratigan rocked the Diocese of Kansas City-St. Joseph, eventually leading to lawsuits filed by families of the victims and the conviction last year of Bishop Robert Finn on a single misdemeanor count of failure to report child abuse.
Fr Musaala: Church must strike balance
Observer Editors Mar.24, 2013
In a space of days, the Catholic Church in Uganda has both hit the apex of ecstasy - with the election of Pope Francis - and crashed to a nadir of controversy, with the Father Anthony Musaala dossier.

Fr Musaala, famed for his gospel music and charismatic preaching, this month wrote an open letter in which he calls for priests to be allowed to marry. He argues, with examples, that celibacy is increasingly becoming a fallacy, as priests conduct affairs and father children.
In response, the church has suspended Musaala over the dossier. But the debate rages on, sometimes taking ugly inter-faith turns. Some Catholics have backed Musaala. But many have condemned him, seeing his dossier as irresponsible washing of dirty linen in the public, to the embarrassment of the faithful.
This is a delicate subject for both the priest and his church. What is certain is that the issues Musaala raises are not new. Many Catholics know a priest, even bishop, who has affairs and children and these issues are usually talked about in hushed voices, or simply avoided.
Catholic Church soldiers on against challenges
Raymond Mpubani

Mar.24, 2013
A priest decides to speak out about things everyone knows happens in the Catholic Church, things contrary to their so-called doctrines, and the Church reacts to his concerns by suspending him! However, if you're familiar with that Church and the way it reacts to questioning, and if you're also familiar with the leadership that made the decision, this hypocrisy should not shock you. What's most worrying is that many people, Catholics and non-Catholics, support the Church's decision!
It's unfortunate the Church has decided to blind it's eyes and foolishly soldier on against reality. That way, the perversity lodged in their clergy, the perversity Fr. Musaala is being punished for speaking out against, will erode away at them until they cannot hide their heads in the sand any longer.
Although, I think, they know. The Church already lost the celibacy war and the only reason they still insist on the vow for new clergy is because of their blind allegiance to "Canon Law." Sure, some priests observe the vow religiously, but those are stained by their more normal colleagues and the perverts (the paedophiles).
What the Church is now saying is that it'd rather nurture sinners (because that's what you become when you break the vow) than scrap the unrealistic stipulation that forces them to sin. Ah, narrow-mindedness!
Catholic Church leadership on trial
Ian Katusime

Mar.28, 2013
What one hears in conversations on the street and in the media across the country is that Fr. Musaala's letter has sparked unprecedented public debate of what some have called the "double standards and hypocrisy' of the Catholic Church that the letter points out.
It is without doubt that depending on how the leadership of Uganda's biggest religious congregation of 14 million Catholics in four archdioceses and 19 dioceses handles the Fr. Musaala saga, the church could be changed; perhaps irrevocably. The man on whose shoulder lays the task of steering the church through the storm is Archbishop Cyprian Kizito Lwanga of Kampala diocese.
A stocky man, with a disarming smile and unusual aggressiveness for a clergyman, the 60-year old Archbishop has in the past shown he is not one to shirk the sometimes tough calling of his office. He has spoken out firmly against bad governance, child sacrifice and corruption.
Few were surprised when within days of Musaala's letter going public, Archbishop Cyprian Lwanga, who is the head of the church, suspended him from all priestly duty.
Critics have said it is unlikely that the highest ranked priest in the Catholic Church in Uganda, the mild Cardinal Emmanuel Wamala who has not commented on the Musaala saga yet, would act so swiftly.
Archbishop Cyprian Lwanga, like his predecessors, has eyes set on being ordained cardinal. That process has been almost automatic. Depending on how he handles this saga and how his performance is judged by his superiors in the Vatican, his fate and that of the Catholic Church could shift.
Part of the problem is that since Father Musaala on March 12 released a letter addressed to bishops, priests, and laity, the Catholic community can no longer shrug off tales of priests in Uganda fondling penitents in the confessional, bishops molesting young women, paying for abortions, and fathering children.
California bishop temporarily withdraws belief requirement for school contracts
Dan Morris-Young

Mar.22, 2013
In a letter Tuesday to pastors, Catholic school principals and "especially teachers," Santa Rosa, Calif., Bishop Robert Vasa has temporarily withdrawn his requirement that they sign an addendum to their 2013-2014 contracts that would have required they agree they are "a ministerial agent of the bishop" and reject "modern errors" that "gravely offend human dignity," including contraception, abortion, same-sex marriage and euthanasia.
In the letter, Vasa:
Wrote that his "most serious oversight ... was my failure to engage and consult the pastors of the diocese and especially those who are the local shepherds of our Catholic schools";
Said his "degree of vigilance" in assuring "the greatest hope of finding the truths of Jesus in our Catholic schools" for students "can look like a lack of trust"; and
Acknowledged "that I over looked proper engagement of the principals" and "erroneously chose a path of informing rather than mutual discernment."
Broad grass-roots reaction from parents, teachers, students and pastors had developed in the diocese following disclosure of the addendum, which had been inserted into the contracts as what Vasa and Catholic school superintendent John Collins described as an amplification and clarification of the standard faith and morals clause.
Bishop stands firm on maintaining Catholic identity in schools
Bishop Robert F. Vasa of Santa Rosa, Calif., has said that he will allow several months for education and instruction before moving forward with a Catholic identity policy for diocesan school teachers.
"The Pastors and I agree that a longer implementation period is in order," Bishop Vasa said in a March 19 letter to the diocese.
"It is now clear to me that there are a number of significant misunderstandings about what the Church teaches, as well as why, and this presents an opportunity to teach."
Church leaders hit back at clergy abuse inquiry claims
Barney Zwartz Mar.30, 2013
Australia's two most senior Catholic prelates, Cardinal George Pell and Archbishop Denis Hart, have repudiated as inaccurate allegations against them at Victoria's clergy sex abuse inquiry.
Melbourne Archbishop Hart denied testimony by Victorian Police Commissioner Ken Lay to the parliamentary inquiry that the church has hindered and obstructed police, and challenges police about why they have not acted already if they have evidence of such behaviour.
Cardinal Pell again rejected claims by Melbourne lawyer Vivian Waller that he was present in 1969 when a child described being raped to another priest, and attacked the claims as ''seriously defamatory'' and possibly a contempt of Parliament and professional misconduct.
Their responses were posted on Thursday on the inquiry website, on a new section called ''right of reply''.
Upcoming Event
LUMEN GENTIUM:
GOD'S PILGRIM PEOPLE
June 24-27, 2013 Seattle,WA
Patrick Brennan
, a pastor's perspective
Catherine Clifford, a theologian's perspective
Jim Coriden, a canonist's perspective
Robert Kaiser, a Vatican II journalist's perspective
Robert Mickens
, a current Vatican journalist's viewpoint
Membership options:
Life $500 ARCC-Angel $100 Regular $50
Senior $25 Student $15
SHOP or SEARCH and SUPPORT ARCC
Like us on Facebook